Vacation home rental Fischerei 27 first floor with terrace at the river

This home is about 40 square meters big and could be used with up to 4 persons. It includes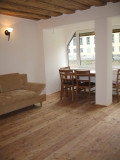 &nbsp &nbsp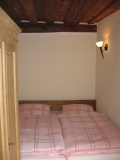 &nbsp &nbsp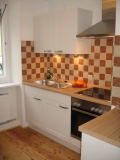 &nbsp &nbsp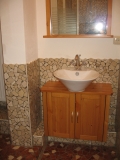 &nbsp &nbsp

- living room equipped with a cosy couch. The couch could be used as a bed. (lying area of 160 x 200 cm), cable TV, dining table and 4 chairs;
- bedroom with a bed with bedclothes for two persons and a wardrobe;
- built in kitchen with a baking oven, coffee machine and a toaster.
- bath with a shower, WC, hairdryer and towels;
- terrace directly at the river Regnitz with view at the old town-hall wich was build in the river. The terrace can be used from June 2010.